The Dulles Area Association of REALTORS® released their February market report and here are the highlights.
The Median Sales Price was $628, 306,  up 7% from this time last year.  This is on top of the 16% increase we had in February of 2021.  Just to put it in perspective, the average appreciation rate is between 3-6% a year.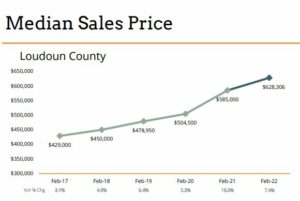 A healthy, balanced market has six months of inventory.  That means it would take six months to sell every home that is listed for sale. In Loudoun, we currently have 0.2 months of supply and this is what is driving the bidding wars and the increased prices.  It is simply, supply and demand.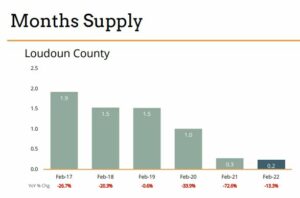 On average, we are seeing homes sell for 103% over the asking price.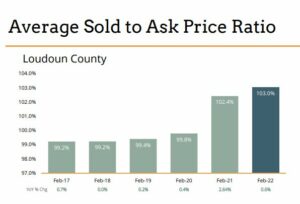 Are We In A Bubble?
It may seem like we are in a bubble and headed for trouble, but I still don't think that we are.  This is purely a supply and demand issue. When we had the housing crash before, we had a surplus of inventory and shady lending practices. That is not the issue here.  The rising interest rates will eventually help calm this down a bit, and it may mean that you have to reset your expectations on what you choose to afford.
Will Prices Continue to Climb? 
I don't think we see these prices continue to climb at this pace. They will level off as the interest rates go up and buyers are less likely to offer extreme numbers over a list price. If you recently purchased, I don't think you should worry about losing equity, but don't expect to gain such high numbers each year.
If you have any questions about what is happening in your neighborhood, please reach out. I can provide factual information that will help you make decisions going forward.