There's a host of reasons for downsizing to a smaller home. You might want to pocket the savings and build upon your nest egg. Maybe you're ready for a new adventure and eager to move to a high-rise condo in the city. Or finally—the kids have flown the coop, and you don't need the extra bedrooms and bathrooms anymore. Whatever your motive is for downsizing, an honest evaluation of your expectations is essential to make an informed decision.
The Upsides of Downsizing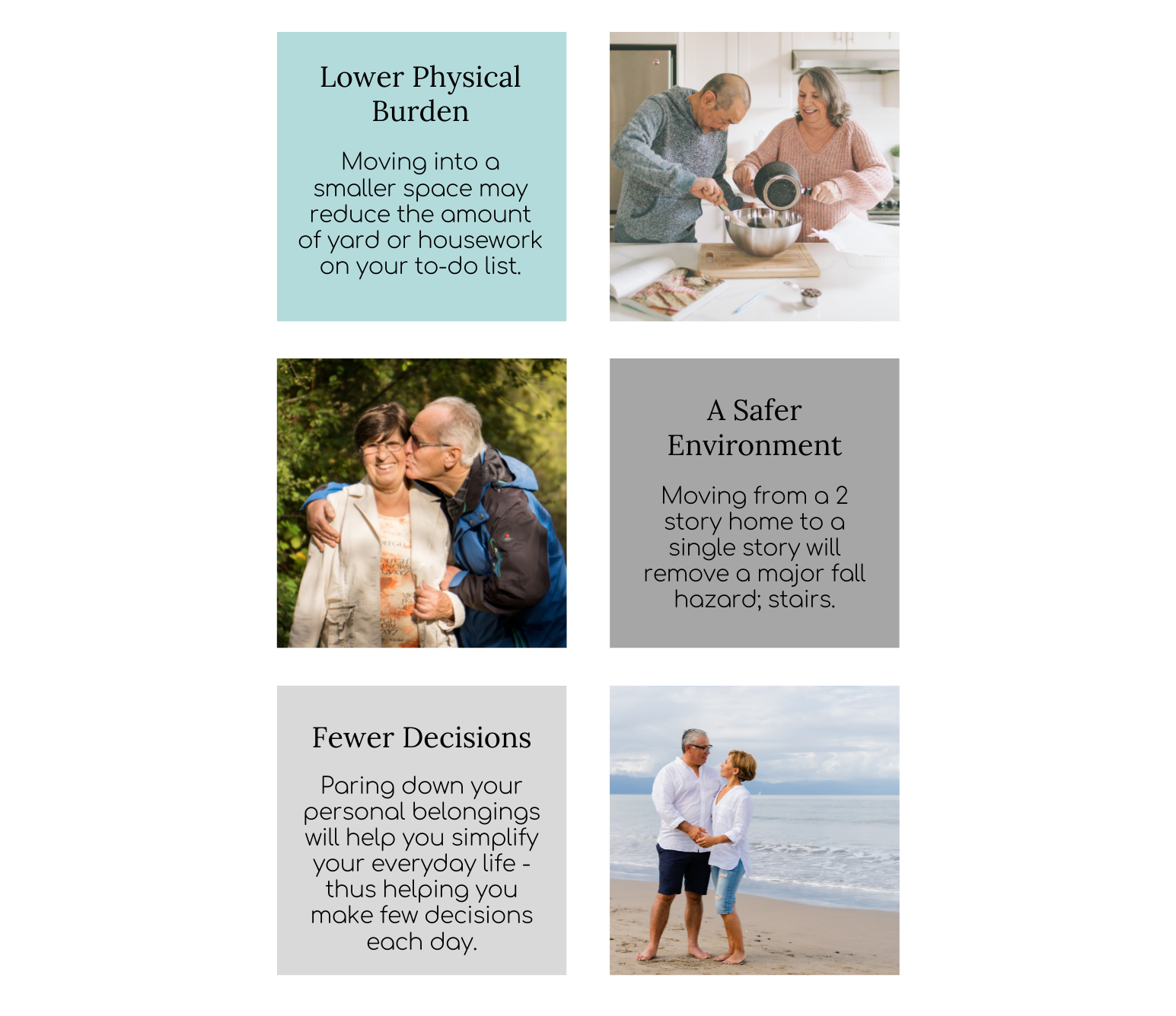 Safely Aging in Place
Regular maintenance and upkeep do become more difficult and tiring. But safety also becomes a big concern. Is time to install grab bars in the baths and showers? How often you need to climb the stairs? Are your doorways large enough to allow for wheelchair or walker access? The aging in place movement helps seniors and disabled members of the community stay in their homes, and is perfect for those who'd rather downsize to an accessible home than go into an assisted living facility.
Listen to Your Emotions
For some people, the home they live in is a constant reminder of something they've lost. Empty nesters, widows or widowers, divorcees, even people who've lost a job may find that it's time to scale down and move on. Your home is literally the first thing you see when you wake up in the morning. If it causes more heartache than pleasure, take a moment to consider what it would be like to live someplace new. If that thought lifts a weight from your shoulders, then it's likely time for you to downsize.
Maintenance Becomes Overwhelming
If the cost and physical activity it takes to maintain your property have become intimidating, then it's likely time to downsize and find something with less overwhelming maintenance. While every home will occasionally require maintenance that lies outside your physical or financial comfort zone, if you're regularly struggling to perform the chores required to maintain your property and your home has become a source of frustration, it's time to find a solution. Homeownership should be a pleasure, not a source of physical exhaustion or mental anguish. 
If aren't able to maintain your home, then it may start deteriorating and end up costing you more to get it ready to sell.  You don't know how much that delayed maintenance is going to cost you if you wait too long to replace the roof or air conditioner. 
Next Steps
Once you are seriously considering a move, contact me for a consultation to talk about what you may need to do to get your home ready to sell.  I can take you through the process step by step and provide recommendations on people that can help you with anything you might need.  A short conversation with me will take a way a lot of your worries and concerns.