It is no surprise that we have lower inventory in the winter and especially during the holiday months. But was the lack of inventory due the rumors about Amazon coming to Loudoun County or even Northern VA? Perhaps. I do expect to see the market pick up again in the spring as it always does.  The amount of snow we get may determine whether the market starts picking up in late February or March.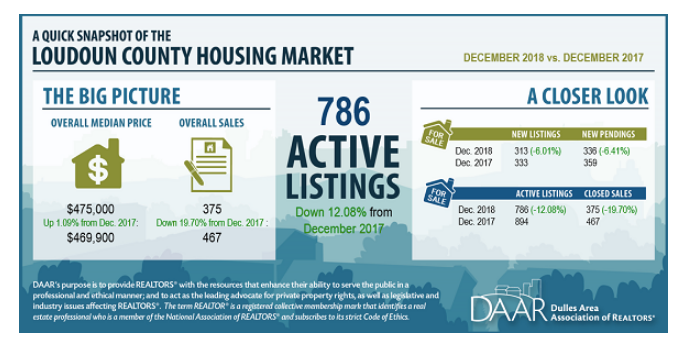 To access the full report: DAAR Market Trends Report
If have been wanting to sell but think you have to wait until Spring, that isn't necessary.  Buyers that are looking in the winter months are serious buyers and you also have less competition with other sellers.
And if you are looking to buy, make sure you talk with a lender so that you have a pre-qualification letter ready when the right house comes along.  It also helps to work with an agent that will create an MLS notification for you as soon as a property matching your criteria is listed.  That way, you don't have to go searching for them, the listings come right to you.  Your agent can also help you find properties before they hit the market.
Please do not hesitate to reach out with questions about buying or selling. I would love to help with your next move.  Call or text me at 703-434-9027 or email Julie.Bowman@exprealty.com.